AK Steel's Middletown Works Coke Plant Recognized for Outstanding Safety Performance
WEST CHESTER, Ohio, May 07, 2019 (GLOBE NEWSWIRE) -- WEST CHESTER, OH, May 7, 2019—AK Steel (NYSE: AKS) said today that the company's Middletown, Ohio coke plant has received the Max Eward Safety Award for 2018 from the American Coke and Coal Chemicals Institute (ACCCI), a leading industry trade organization.  The award recognizes Middletown Works, along with two other ACCCI member coke sites, for operating the safest cokemaking facilities in America.  These facilities operated the entire year of 2018 without any OSHA recordable injuries.
"We congratulate employees at our Middletown Works coke plant for this outstanding safety recognition," said Roger K. Newport, CEO of AK Steel.  "We are honored to be recognized by the ACCCI with this award, which is indicative of the company's commitment to safety across our operations."  This ACCCI recognition marks the 18th time in the last 22 years that one or more AK Steel coke plants have received the Max Eward Safety Award. 
"ACCCI is proud to recognize AK Steel for promoting a culture of safety, and delivering exceptional results," said David Ailor, President of the American Coke and Coal Chemicals Institute.  "Congratulations to AK Steel and employees at the Middletown Works coke plant who continue to be role models for the industry for safe operations in the workplace."

AK Steel
AK Steel is a leading producer of flat-rolled carbon, stainless and electrical steel products, primarily for the automotive, infrastructure and manufacturing, including electrical power, and distributors and converters markets. Through its subsidiaries, the company also provides customer solutions with carbon and stainless steel tubing products, die design and tooling, and hot- and cold-stamped components. Headquartered in West Chester, Ohio (Greater Cincinnati), the company has approximately 9,500 employees at manufacturing operations in the United States, Canada and Mexico, and facilities in Western Europe. Additional information about AK Steel is available at www.aksteel.com.
Contacts:
Media – Lisa H. Jester, Corporate Manager, Communications and Public Relations (513) 425-2510
Investors – Douglas O. Mitterholzer, General Manager, Investor Relations (513) 425-5215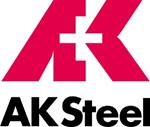 Source: AK Steel